Jump to recipe
Pear, Blue Cheese & Walnut Salad Jar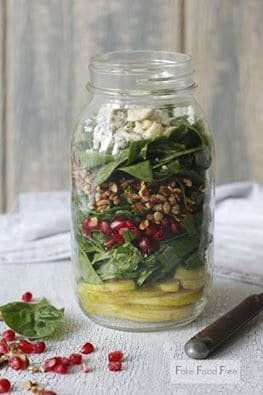 Ingredients
‪Salad‬ jars - the clever new trend
By layering the ingredients the wet ingredients are kept away from the dry ones. The concept is deadly... your salad doesn't go limp and soggy!
For example: something like the following;
Step 1: Add olive oil & apple cider vinegar
Step 2: Add sliced pear
Step 3: Add pomegranate
Step 4: Add spinach
Step 5: Add walnuts
Step 5: Add a little blue cheese
They last a few days in the fridge! Couldn't be handier!
Instructions
Olive oil & apple cider vinegar
Sliced pear
Pomegranate
Spinach
Walnuts
Little blue cheese