Jump to recipe
‪‎Mushroom‬ ‪Soup‬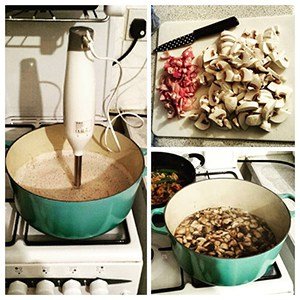 Ingredients
Sweat 1 chopped ‪ onion by pouring a little oil into a pan, adding in the onion and putting on the lid. If the lid is loose put parchment over the top of the pan before putting the lid back on).
After a few minutes add in the ‪mushrooms that you have sliced. Cook for a couple of minutes.
Then add in the ‪stock and 0.5 tsp of ‪nutmeg and cook for 10 mins.
Finally add in the ‪milk and bring to the boil. Whizz. Done.
Instructions
1 chopped ‪ onion
Rapeseed oil
2 packets of ‪mushrooms
750ml ‪stock
0.5 tsp of ‪nutmeg
250ml of ‪milk