Jump to recipe
Chilli Con Carne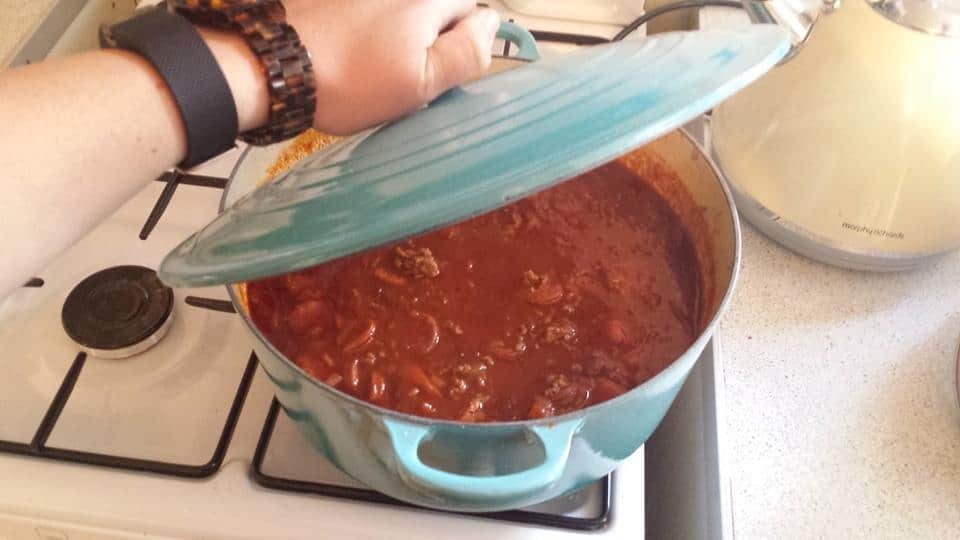 Ingredients
1. Prepare your vegetables.
2. Put your pan on the hob over a medium heat. Add the oil and leave it for 1-2 minutes and then add the onions + chorizo and cook for about 5 minutes.
3. Add in the the garlic, red peppers, chilli powder, paprika and ground cumin. Stir and leave for another 5 minutes. Give it the odd stir.
4. Next, brown the beef... The heat needs to be turned up for this so that the meat sizzles when it touches the pan. Prod it into lumps.
5. Add the beef stock cube to 600ml of hot water. Pour this and your coffee into the pan. Add in the chopped tomatoes and some salt, pepper and tomato purée. Simmer and give it a bit of a stir. Put a lid on the pan and leave it for 20 minutes at a small heat simmering away.
6. Drain and rinse the red kidney beans and stir them into the pot of chilli. Bring to the boil and leave the lid off for about 10 minutes.
Enjoy!
*if you're veggie, why not try Quorn instead of the beef and chorizo.
**if you're reducing calories, eat less, or omit the chorizo +/- trade the beef for turkey or pork mince.
Instructions
1 tbsp rapeseed oil
1 chorizo sausage, sliced
2 large onions, chopped
2 red peppers, chopped
4 garlic cloves, crushed
2 heaped tsp hot chilli powder
2 tsp paprika
2 tsp ground cumin
1000g lean minced beef
2 beef stock cubes
1 mug coffee
2 tins chopped tomatoes
4 tbsp tomato purée
2 tins red kidney beans

© 2023 Copyright Orla Walsh Nutrition