Jump to recipe
Carrot Cake Overnight Oats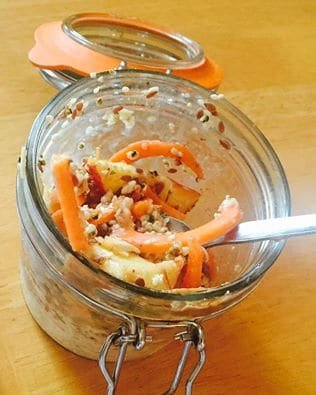 Ingredients
Mix in a bowl or a lunch box (if taking your breakfast to work or school) the oats, vanilla yoghurt, milk, grated carrot, walnuts, sesame seeds, raisins and cinnamon.
Leave overnight in the fridge, and eat cold the next day!
Why not make a big enough batch for a couple of days?
Instructions
½ cup oats (40g),
½ cup vanilla yoghurt (small pot),
1/2 cup milk (125ml)
1/2 (grated) carrot,
1 handful walnuts,
2 tbsp sesame seeds,
2 tbsp raisins
1 tsp cinnamon

© 2023 Copyright Orla Walsh Nutrition