Jump to recipe
‪‎Cauliflower‬ base ‪‎Pizza‬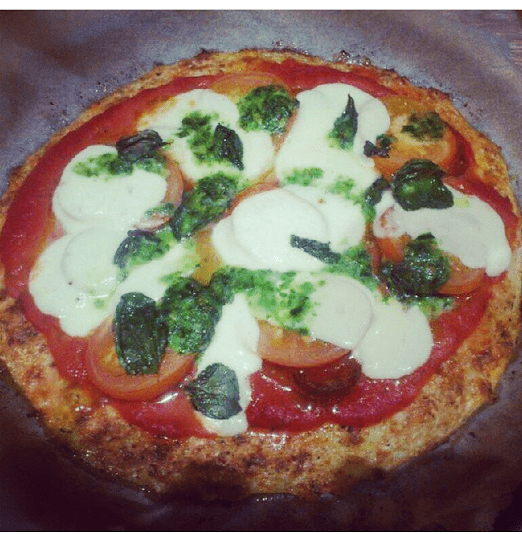 Ingredients
1. Heat your oven to 200C.
2. Remove the leaves from the cauliflower and cut into chunks. Put into your food processor and whizz up until it looks like rice.
3. Put the cauliflower into a bowl, cover and microwave for 5 mins to soften it.
4. Pour it out onto a (clean) tea towel and leave to cool.
5. Once cool enough to touch it, using the tea towel squeeze as much liquid as you can out of the cauliflower and put it back into the bowl.
6. Stir in 2 eggs, 1 tbsp oregano and black pepper. A little Parmesan and dried garlic is nice in the base too.
7. Now line a baking tray with parchment and grease with oil. Using a spoon, flatten the cauliflower mixture into the tray and bake for about 15 mins in the oven. It should look golden brown when cooked enough.
8. Take the cauliflower base out of the oven, turn it up to 220 degrees and set aside while you get your ingredients for the top ready. Layer on some tomato puree, slices of mozzarella and tomato. Now dollop of some pesto and sprinkle on some chiili flakes.
9. Cook in the oven for 10-12 mins. Serve with some fresh basil leaves added on top.
Instructions
Cauliflower,
2 eggs,
1 tbsp oregano,
black pepper,
Parmesan,
Garlic,
Tomato Puree,
Mozzarella,
Tomato,
Chilli flakes,
Fresh basil
Dinner


© 2023 Copyright Orla Walsh Nutrition